Chris
Details

Geschrieben von:

Alexander Frhr. v. Strachwitz

Hauptkategorie: Persönlichkeiten
Kategorie: Chris
Grammy zeichnet Chris Strachwitz aus
Chris Strachwitz (Christian Graf Strachwitz a.d.H. Groß-Reichenau) wird in diesem Jahr mit einem Trustees Award für sein Lebenswerk ausgezeichnet. Dies gab die amerikanische Recording Academy, die die Grammy Awards vergibt, am 13. Januar 2016 bekannt. Die besondere Auszeichnung wird durch Beschluß des Vorstands der Recording Academy an Persönlichkeiten verliehen, die in ihrer musikalischen Karriere einen wesentlichen Beitrag zur Aufnahme von Musik geleistet haben. In der Würdigung heißt es:
Chris Strachwitz has made his living celebrating the music he loves – music that forms the fabric of both American and international culture. He is the founder of Arhoolie Records and produces much of the content he releases. To blues fans he is a legend, releasing seminal works by Mississippi Fred McDowell, Mance Lipscomb, Charlie Musselwhite, Rebirth Brass Band, Big Joe Williams, Big Mama Thornton, Lightnin' Hopkins, Earl Hooker, and Elizabeth Cotten, and many others. Strachwitz also produces Cajun music, highlighted by his releases by Clifton Chenier, and also focused on Mexican recordings, especially Norteño music.
Mit ihm erhalten in diesem Jahr John Cage (posthum) und Fred Foster diese Auszeichnung, die in der Vergangenheit u.a. an Bela Bartok, die Beatles, Walt Disney, George Gershwin und Krzysztof Penderecki verliehen worden war.
Die vollständige Presseerklärung findet sich hier: https://www.grammy.org/files/press-release/pdf/2016smarelease_final.pdf
Details

Geschrieben von:

Alexander Frhr. v. Strachwitz

Hauptkategorie: Persönlichkeiten
Kategorie: Chris
THIS AIN'T NO MOUSE MUSIC! (Website)
The Story of Chris Strachwitz and Arhoolie Records
Feature-length Documentary by Chris Simon and Maureen Gosling
"Smokin' hot!" —Radio One, New Zealand
"One of the best music documentaries around...This film puts the heart and soul back into music and opens your mind to incredible artists you may never have heard of." —The Film Reel, Toronto
Chris Strachwitz is a detective of sounds, an archaeologist of the deep American music, music with roots that strike straight into the country's heartland. He is the guiding force behind the legendary Arhoolie Records, producing albums that the Rolling Stones and many others played the grooves right off of. Since 1960, Strachwitz has been recording the authentic pulses of the great American music, throbbing away in the backwoods of the nation. His label offers an unparalleled catalogue of blues, Cajun, wild Hillbilly country, Tex-Mex and New Orleans R&B. These diverse musical strands seem to have grown right out of the ground they are played on. With tape-recorder in hand, Strachwitz traveled to plantations and prisons, roadhouses and whorehouses, churches and bayou juke joints. He returned with recordings that would revolutionize the sound of popular music.
In This Ain't No Mouse Music!, their vivid portrait of an obsessive sonic sleuth, filmmakers Chris Simon and Maureen Gosling take a hip-shaking stroll from New Orleans to Appalachia and right into very the DNA of rock'n'roll. In this beautifully shot film, we come face to face with the creators of indigenous music, from the great Clifton Chenier to fiddler Michael Doucet, from Flaco Jimenez to the Pine Leaf Boys, playing songs that are endemic to their place and circumstance, to dialect and class, to climate and landscape. Their music is now highly endangered by the merciless steamroller of pop culture, assimilation and commercialism, which makes Strachwitz's desperate pursuit to track down every last artist all the more urgent. But these songs aren't meant to be locked away in a Smithsonian vault to be decoded by folklorists and musical anthropologists. This film is a living cultural history with a soundtrack that bites and kicks and screams. Even 50 years later, Arhoolie's records remain alive, unruly and still so sharp that some songs can cut you right down to the soul.
—Jeffrey St. Clair, Author Born Under a Bad Sky
Details

Geschrieben von:

Jason Ankeny, All Music Guide

Hauptkategorie: Persönlichkeiten
Kategorie: Chris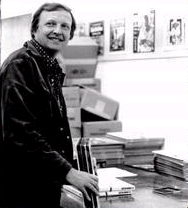 The president of the Arhoolie Records label, folklorist and producer Chris Strachwitz was among the most prominent and influential champions of global roots music; initially focusing primarily on American traditions including the blues, Cajun, Tejano, zydeco, country and jazz, he later branched out to explore music from throughout the world, preserving our shared cultural heritage for future generations to explore. Born July 1, 1931 in Gross Reichenau, Germany, Strachwitz relocated to the U.S. in 1947, and began collecting 78 rpm recordings a short time later. After first becoming obsessed with New Orleans jazz, his interests quickly expanded into country, gospel, and Mexican ranchera music. While attending Pomona College during the early 1950s, Strachwitz bought his first tape recorder, documenting radio programs and live performances by the school jazz band; he later met record producer Bob Geddins, learning from him how to make proper recordings.
Details

Geschrieben von:

Alexander Frhr. v. Strachwitz

Hauptkategorie: Persönlichkeiten
Kategorie: Chris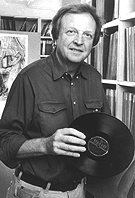 CHRIS STRACHWITZ
Record Producer and Label Founder, El Cerrito, California
For many years, traditional arts experts from around the country who recommended each year's list of National Heritage Fellows lamented the lack of an award for individuals whose contributions to the traditional arts were primarily as organizers, documentarians, producers, educators and/or advocates rather than as artists. Fiscal Year 2000 marks the first time that this new type of National Heritage Fellowship, the "keeper of tradition" award, will be given.